In this Covid-19 period, most governments in the world, and particularly French one, have decided to deploy ambitious plans to support the struggling electric vehicle industry and relaunch demand. In this context, vehicle-to-grid solutions are seen to be more and more an opportunity all around the world.
Vehicle-to-grid is a system in which plug-in Electric Vehicles (EV), such as battery electric vehicles (BEV), plug-in hybrids (PHEV) or hydrogen fuel cell electric vehicles (FCEV), are in relation with the power grid to sell demand response services by either returning electricity to the grid or by throttling their charging rate. It brings the necessary flexibility when integrating a lot of renewables in a system, but this also requires being able to be powered. Vehicle-To-Grid will also cause an overall increase in electricity consumption, and governments must be prepared for it.
This article will focus on French market, where the joint evolution of the French electric mix towards renewable energies and the increase in the number of electric vehicles is a real opportunity. These can be used to help balance the power grid and manage local ecosystems.
Indeed, on the one hand, the french low carbon strategy (SNBC) carried out since 2015 at national level aims at reducing greenhouse gas emissions by 40% in 2030 compared to 1990. In this context, one of the objectives of the Pluriannual Energy Programming (PPE) in terms of reduction of primary consumption of fossil fuels is to decrease by 20% this primary consumption of fossil energy in 2023 and by 35% in 2028 compared to 2012.
On the other hand, the transportation sector accounts for almost 30% of energy consumption in France and is responsible for almost 40% of our greenhouse gas emissions. To relaunch electric vehicle production and ensure its deployment, President Macron has recently announced (end of May 2020) an increase in the purchase grant and the conversion bonus for electric vehicles : these measures are a continuation of a policy which, for some years now, has supported the electric transportation sector and the growing number of electric vehicles (conversion bonus, ecological bonus-penalty, creation of low-emission zones, new constraints for car manufacturers, etc.).
In this context, this article is dedicated to French based EV's charging assets managers and owners. Its objective is to present the energy challenges linked to the fast-growing penetration of electric vehicles within the French electric market framework. Our expert Jean-Charles Bollotte explains the possibilities offered by the smart management of this kind of infrastructure, while taking into account their local environment.
If you already plan to carry out a study on EV charging asset's installation in an optimized way with options that may interest your company, contact our teams, they can support you in your project.
1. The major challenge linked to the development of electric vehicles

First challenge: combining successfully the assets and the charge management in the existing system
In addition to the EV's charging asset's control systems, it is important to analyze and identify the possible synergies between the EV's charging asset's management and their immediate environment. One can easily imagine that an association with local self-consumption systems will be possible or even an association with smart building management systems.
An example to illustrate this issue: the case of a supermarket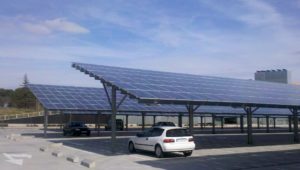 For a supermarket, the challenge is to combine two actions:
Pair the new recharging system with existing systems: shade boxes (self-consumption), air conditioning and cooling, etc.
Find the correct charge management depending on the supply contract. Regarding this issue, various options are already possible: simple and dynamic tariff piloting; and in the future, participation in the grid balancing.
However, in all of these technical options, it is important to keep an eye about the customer wishes. He finally owns the electric vehicle and must decide how to charge it. The customer (supermarket's delivery employee or consumer who comes to go shopping) must not be affected by the charging method: if he has to charge his car with the supermarket infrastructure, his vehicle's charging level must match his expectations when leaving the site. For example, the charge level on departure must not be lower than the charge level on arrival, due to a demand-response operation. Thus, the end-customer must see it as a gain and not as a disturbance.
Among the control options, a charge management technique that can be used is the Vehicle-To-Grid or V2G (vehicle that is capable of injecting power into the network). 
2. The Vehicle-to-Grid (V2G) and its solutions
The main players in charging's assets have set up "bidirectional" charging possibilities which, coupled with the fast charging possibility, enable the feasibility to charge the electric vehicles in a "smart" manner.
For example, in a charging station without self-consumption devices such as solar panels located near a supermarket or shopping center, it is important to ensure a fine control of the EV's charging: in summer, if 5 EVs need to charge simultaneously, generating thus an important peak demand, the station would suffer from a high in electricity consumption with a significant economic cost. As an alternative, this station may slightly extend the charging time of  the vehicles with a very low impact on the end consumer: this would also allow to smoothly lower the electricity site's supply and avoid this peak demand and thus optimize its supply contract.
In general, the EV's charge management will help the grid balancing by adjusting its charge level according to an evolving setpoint. In some cases, participation to the grid balancing will be coordinated according to other elements present in the environment and directly interacting with EV's charge management such as storage systems, renewable energy production, etc…
Thus, recharging of electric vehicles can be coupled with smart building management; be partially interfaced with local energy production systems to absorb surplus production; or participate locally in micro and smart grids management (eco-neighborhood, island system, collective self-consumption, etc.)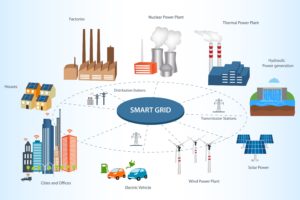 Source : https://innovationatwork.ieee.org/
3. Challenges faced by mobility operators to develop V2G

Apart from the business requirements related to the EV's charge management, the main optimization issues will be:
– consideration of customer constraints (desired charging time and level, etc.),
– electricity markets access (adjustment mechanism, reserve mechanism, wholesale market),
– acquisition of skills for trade-offs optimization between the different valuation options,
– technical capacity to modulate the charge of electric vehicles according to external constraints.
One of the biggest challenges in developing the valorization of energy capacities on the electricity markets is the reliability of the commitments offered. The non-compliance with these requirements would have direct or indirect financial consequences, it is then important to minimize the risks linked to local regulatory constraints (penalty, withdrawal of approval, etc…).
One of the solutions to reduce the exposure on the energy markets is the integration of the capacities offered within a so-called "pool" grouping together several types of capacities, allowing both to pool the risks and reduce its exposure.
Since 2017, Energy Pool has been managing a "FCR Pool" aggregating several industrial sites with discontinuous charges (called "discrete" charges, combined to reconstitute a continuous frequency response signal). The special feature of this Pool is the consideration of our customer industrial's constraints. Thus, this pool requests from industrial equipment continuous power's modulation in order to meet the needs of the grid without disturbing the associated production processes and programs.
In the same way, Energy Pool is able to integrate Vehicle-To-Grid's charging assets into one of its Pool, taking into account their constraints.
Energy Pool is currently studying on behalf of a transport operator the potential gains linked to the smart implication load management of electric transport assets, with the related  implications (management of subscribed power / taking into account of collective self-consumption).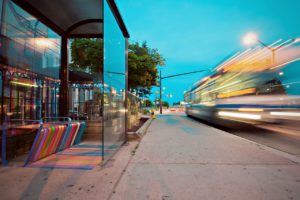 4. The Energy Pool solutions and value creation for mobility operators throughout the electric vehicle value

According to the World Energy Outlook, global flexibility needs will double by 2040. Grid balancing needs will therefore be greater in the coming years and needs will also drop by one level to go from "Transport Network" level to the "Distribution Networks" level.
The distribution network's infrastructures are therefore likely to find themselves facing local power peak demand (consumption peaks; multiplication of charging stations, etc…) which incite them to implement flexibility mechanisms.
To implement this flexibility at EV charging asset's owners/managers level, and enhance the EV's charging / discharging capacities , the following elements shall be taken into account:
– End user's comfort & requirements
– Local environment (smart and micro grids; consumption of own energy production; flexibility)
– Global environment (pool integration; energy market's regulatory constraints, etc.).
– Reliability of the proposed and made commitments.
To better understand the optimization of all these systems, it is appropriate to analyze them considering the value chain as a whole.
Energy Pool offer to assist EV's charging assets managers by working with them on the following:
– A global energy analysis on the flexibility's enhancement and optimization, taking into account the electric vehicle's load management, their environments (implementation of local power production solutions; analysis of local flexibilities…) and associated constraints such as customer comfort, electricity supply contracts, etc…
– Support in the proposed action plan's implementation, from the preliminary actions's set up to the capacity certification by the Transmission System Operator (TSO) including project coordination and 24/7 assistance in managing these capacities without disturbing your customers (together with the other flexibilities identified).
Need for help on your flexibility ? Contact our experts !
Jean-Charles BOLLOTTE coordinates projects at Energy Pool, notably related to electromobility and energy storage, with new customers, on markets in France and abroad.