At Energy Pool, we decided to share with you how we organize ourselves in this unprecedented period of confinement: human stories, testimonies, including from our subsidiaries in Turquey and Japan, photos… through a series called : # HumanEnergy.

How to take care of our employees while providing the best service to our customers and partners? How to allow everyone to live serenely this turbulent period, while contributing to the security of the energy system in France and abroad?

React and share with us your best practices in your companies and your teams!
Through the interview of Gabriella KALMAR, responsible for corporate IT tools for the whole group in France, in Japan and Turkey, let us dive into our teams organization. In particular for telework and cybersecurity.
"For you, home office is not new since the start of the health crisis, is it? "
No, in France, in the Technolac headquarters teams and in Lyon, telework is already rooted in our habits. Some employees are already having one fixed home office day par week.
In the Japanese subsidiary, it's not the same story : this period of health crisis was an opportunity to change the culture and habits, rather conservative on this subject, with a conclusive attempt to switch all employees to teleworking at the end of February, allowing to use it widely.
The experiment turns out to be a success since people from the Japanese authorities or from TEPCO recently congratulated the company Energy Pool for its example of good conduct in terms of teleworking :  Japanese greeting etiquette — a bow instead of a handshake— has played a part in slowing the outbreak of covid-19, as has basic hygiene education. This means that the virus spreads less quickly than in other countries (at this stage, less than 1,500 cases listed, whereas the first cases arrived earlier than in France). However, when we see the always crowded subways of Tokyo, we say that we took the good decision to set up teleworking methods very early, in order to fight against the spread of the virus, and protect our employees and our customer service activity.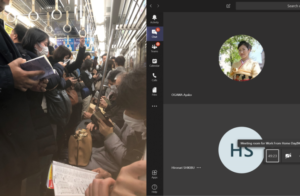 "What tools do you use to organize telework during this period? "
Our teams in France are already using secure VPN connections to reach business applications : Everest software for managing energy consumption for our customers, or SAP for accounting, for instance.
Regarding the organization of work within teams, we fully exploit the Microsoft Office 365 ​​suite with for example Teams for video and audio conference (see graph with peak usage), Sharepoint and One Drive for document storage, or Yammer as a corporate social network. Everything is recoverable on the Cloud, no more local file storage.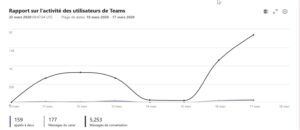 To ensure that all employees are able to use these tools in teleworking, I set up training courses before the confinement phase, and I continue to give them, via Teams, to employees who have just joined our teams.
"Currently, spam emails related to the subject of coronavirus represent the highest volume of attacks ever recorded on the same theme: how do you manage this risk for the security of your systems and your data? "
My first action was to ensure the security and confidentiality of our data outside the Energy Pool network.
I reminded to each employee the need to change their passwords and to set up double authentication (MFA).
My second action for cybersecurity is to monitor on a daily basis our IT Systems.
In particular, I watch the curve of phishing and spam attempts: recently, I had to reinforce some parameters of our antispam strategy to tighten the initial filtering policy, and i sensitized my colleagues in France and in other countries to be careful to spam like this one: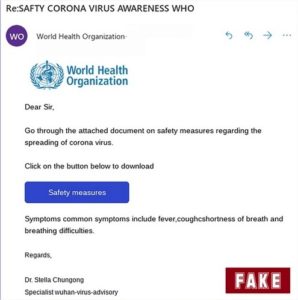 Finally, my third action, perhaps the most rewarding from a human point of view, is to listen to my colleagues in telework
Indeed, I reassure them, providing them with alternative solutions and advice: for example after Microsoft Teams's outage due to too high volume of global connections, I opened conf call numbers to those who needed it most, and warned our teams on the best practices to adopt to limit the use of bandwidth: because yes, digital solidarity exist too!
Finally, I am continuously monitoring cybersecurity and cyber attacks which are multiplying against companies, as the president of the European Commission, Mrs. Von der Leyen, recently repeated in this  video
: we must remain vigilant and I try to regularly educate our employees via Yammer.
To conclude, I wanted to make clear that telework and cybersecurity have been in the DNA of our teams from the beginning. Today we are carrying out a business continuity plan, planned very early on, and in collaboration with our Japanese and Turkish colleagues, particularly regarding our Network Operations Center activities: in this regard, they are ahead of our habits in France and bring us a lot to raise our standards in terms of stress tests and risk simulations. In Japan, due to the vagaries of the weather, the culture of managing risk in the event of business interruption is much more developed.
What about you, what did you put in place with your colleagues and in your companies on telework and cybersecurity during this delicate period? React to our interview on Linkedin with the #HumanEnergy !