FRANCE: COLD TEMPERATURES AND LOW WIND GENERATION
The first week of January (4th to 11th) saw many tensions on the security of supply.
Temperatures were below the seasonal norms leading to high electricity demand (87033MW at 9.15 am on Jan 8th, 88348 MW at 9.15 on Jan 11th). On the supply side, unfortunately, wind generation was very low during this period reaching a maximum share of 5% in the generation mix and representing only 1% (1143MW) on Jan 8th when demand was at the highest.
This situation led to tight security margins. In the framework of the capacity mechanism, the French TSO RTE did notify 6 peak days (PP1/PP2), obliging aggregators and generators to offer generation and demand response capacities on the balancing mechanism.
RTE took an exceptional measure as well using its EcoWatt scheme calling for all citizens to reduce their electricity consumption on Jan 8th between 7 am and 1 pm.
SIGNIFICANT TENSIONS ON THE FRENCH MARKET
On the electricity exchange, SPOT prices were higher than 100€/MWh for at least one hour on Jan 6th, 7th and 8th.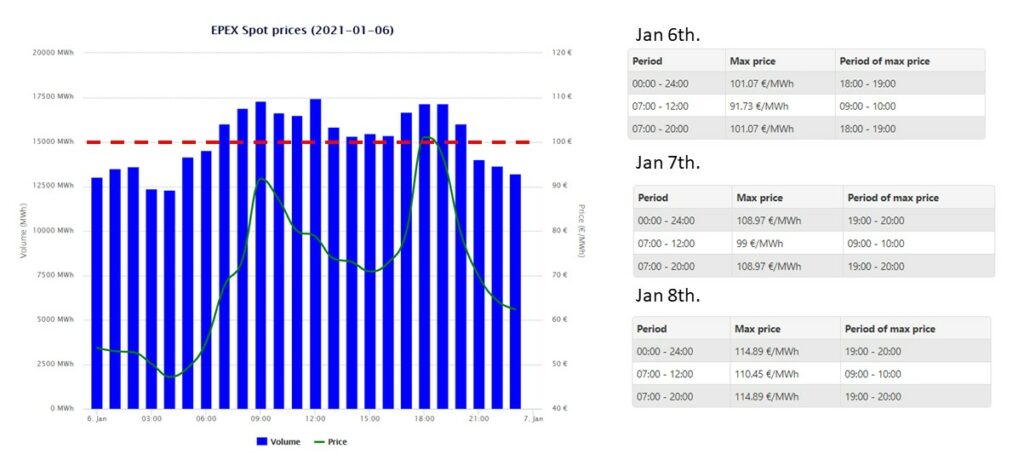 On the balancing mechanism, some offers were activated at very high price, between 600 and 800€/MWh to restore security margins (Jan 11th).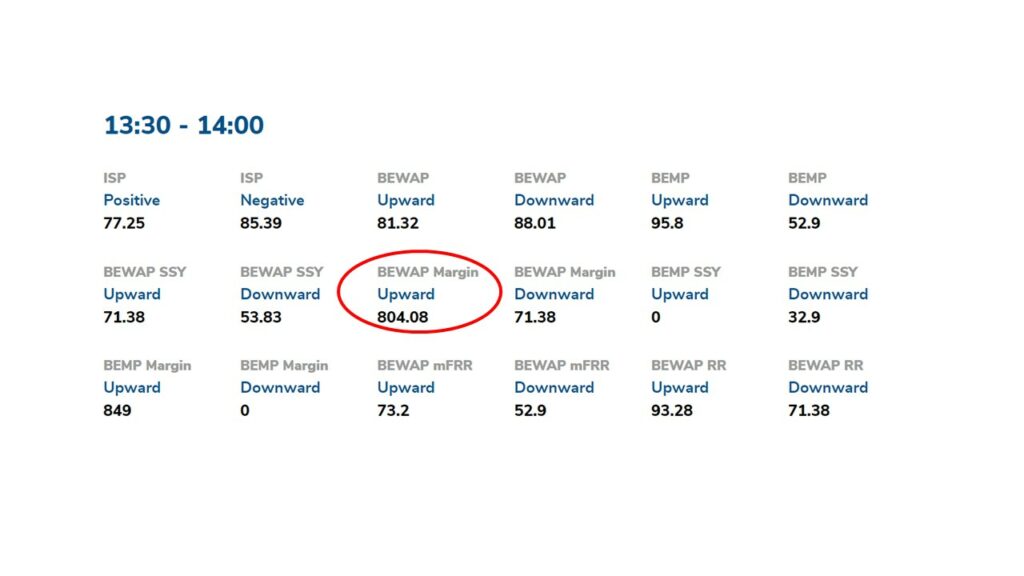 FOCUS ON DEMAND RESPONSE PARTICIPATION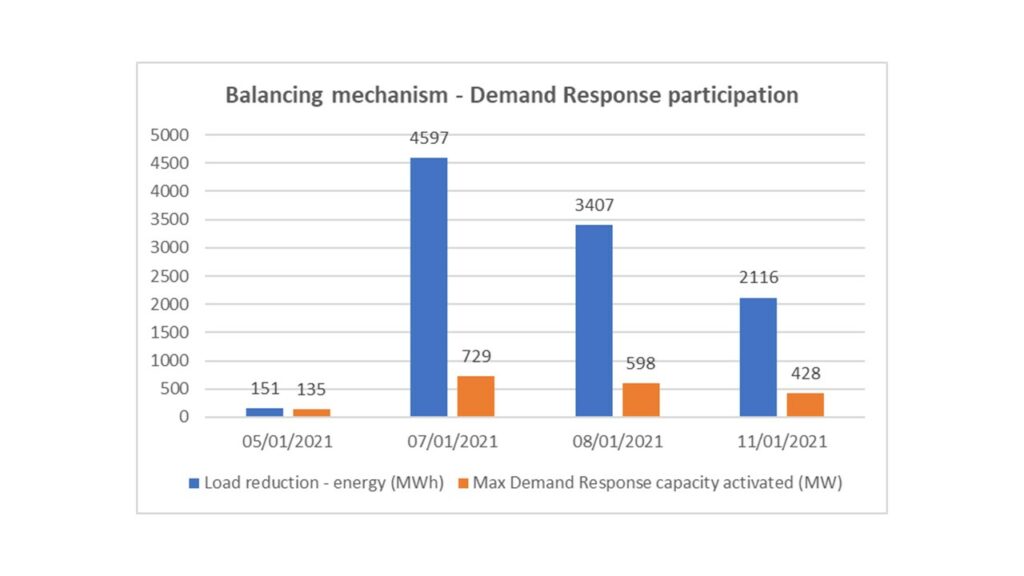 During this first period, close to 10,3 GWh were curtailed to relieve tensions on the grid.
This volume is higher than the overall volume of Demand Response activated in 2019 and represents about half of the volume activated back in 2018.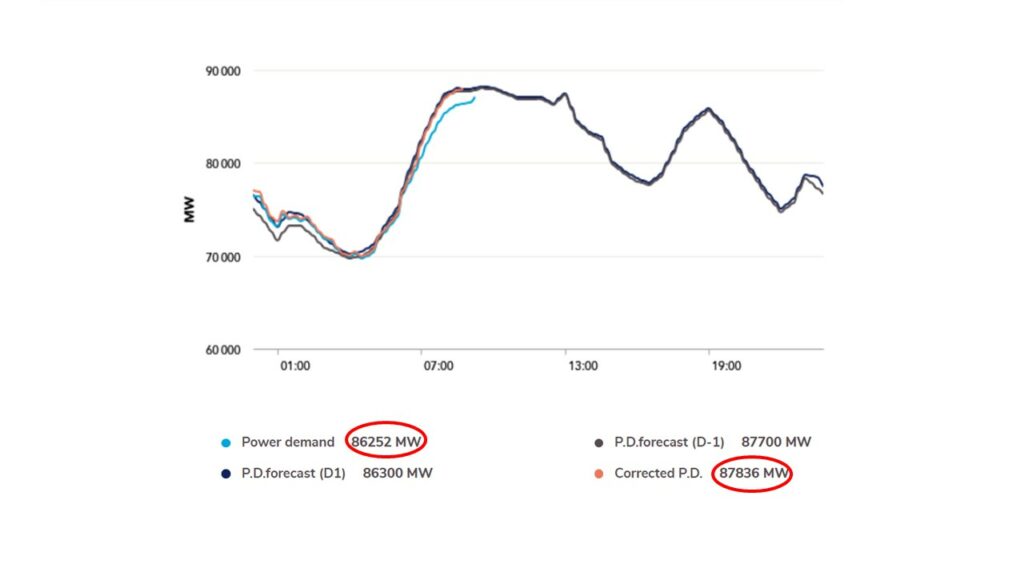 Thanks to Demand Response activations (explicit and implicit volume), the national load curve was lowered of 1.5GW on Jan 8th at 8.30pm.
*Corrected power demand (P.D.) = power demand – agreggated demand response.

Regarding the "NEBEF" mechanism (specific mechanism allowing consumers to participate in energy markets through load reductions), more than 100MW of load reduction were scheduled on Jan 8th, a volume close to 10 times higher than the one scheduled on a typical day.
ENERGY POOL PARTICIPATION
Energy Pool operations team was highly mobilized all weeklong to fulfil all our commitments to RTE. At the same time, our team remained flexible and receptive to our industrial clients' operational constraints and handled them the best way they could. In such a tense week, through Energy Pool software (DERMS), close to 200 industrial and tertiary sites were activated to reduce their load. On Monday Jan 11th, Energy Pool was called twice by RTE and provided more than 680 MWh, about one third of the overall activated volume.
JAPAN: COLD SPELL AND LOW POWER PLANT AVAILABILITY
In Japan, the situation has been very tight from Jan 5th to 15th due to a record cold wave and heavy snow falls leading to high electricity demand compounded by logistic issues in LNG procurement. These LNG supply constraints forced gas-fired power plant to operate at lower than usual capacity and bad weather, especially heavy snow falls, limited Solar PV generation.
MARKET: AN UNPRECEDENTED SITUATION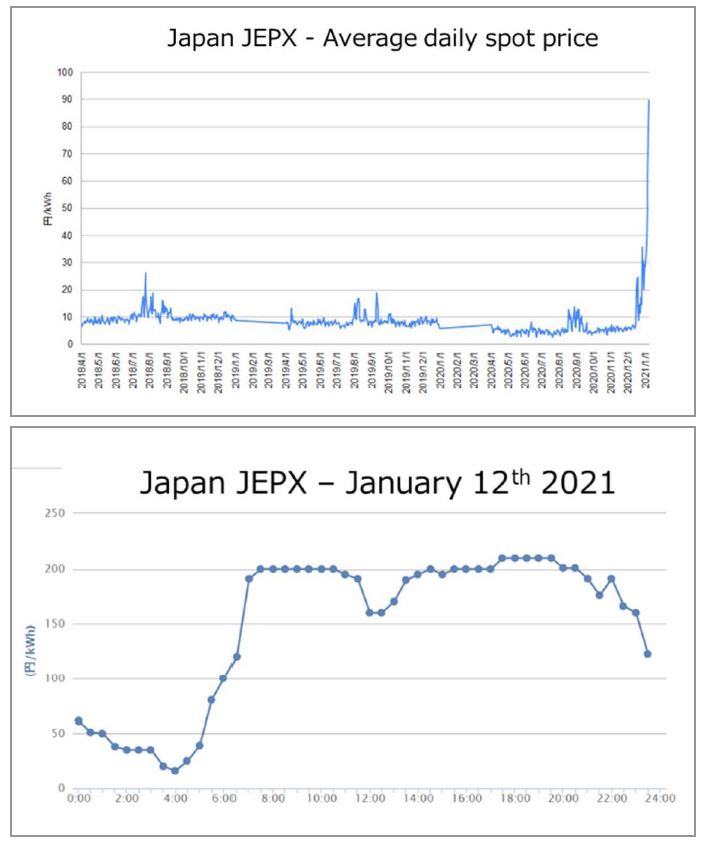 Mid-January, spot prices jumped over 200 JPY/kWh for several days, daily averages peaked at 4 higher than the previous maximum back in Summer 2018, forcing the authorities to institute an emergency price cap.
Margins were very tight all over Japan and TEPCO power grid called for cooperation from all users to save electricity.
Situation was very tense as peak demand reached 50.94 GW in the evening of January 12th with supply capacity of 54.05 GW.
ENERGY POOL JAPAN CONTRIBUTION TO GRID STABILITY
In Tokyo area, industrial users were asked to lower their consumption 8 days in a row from Jan 5th to Jan 15th. Even though Energy Pool Japan operation teams was teleworking, they operated everyday highly reliable load reductions of more than 300MW representing a global volume of 7GWh during all this period. Note that on Friday 8th, on top of the TEPCO area activation, Energy Pool Japan also
managed an activation in the Kansai area.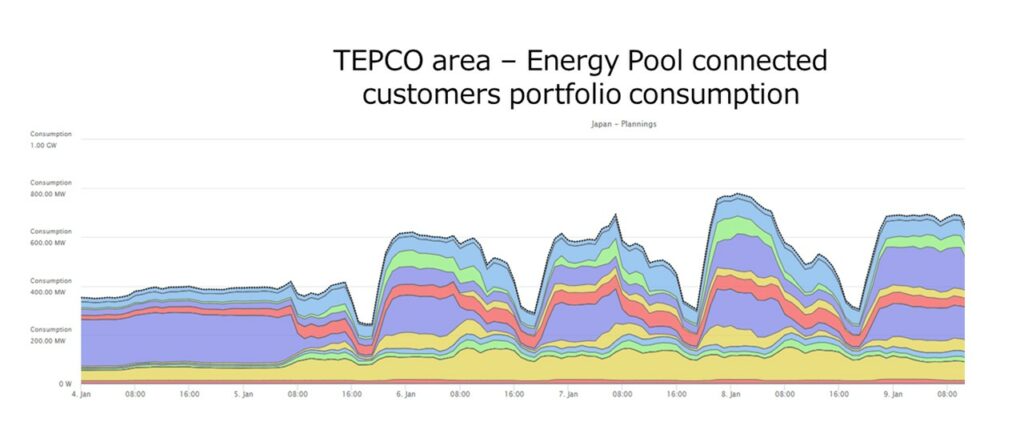 Any questions about this document or Energy Pool solutions ? Please contact us