Press release
Energy Pool consolidates its governance to boost growth: Olivier BAUD, founder and Chairman of the Supervisory Board, is joined by Benoît BARRIÈRE who steps into the role of CEO.
– Having been a pioneer and leader in Demand Response, Energy Pool is now developing a strategy to support its customers to achieve a low-carbon and more efficient energy management, aiming to become a global player in the sector.
– Some changes have therefore been made to the Energy Pool governance: Benoît BARRIÈRE, CEO, will be heading up the operational management of the company. His activities will be monitored by a Supervisory Board chaired by Olivier BAUD and bolstered by a fifth independent member (Mr. Philippe BARREAU).
Le Bourget-du-Lac, France, 25th February 2021 – Benoît BARRIÈRE joined Energy Pool in early 2021 as the Chief Executive Officer. He will ensure the operational management of the company and the roll-out of the development strategy in France and internationally.
Benoît BARRIÈRE has a PhD in Physics and is a graduate of the École Normale Supérieure. He started his career at TOTAL and ARKEMA, and then joined the oil services group CGG. With over 20 years of industrial experience, he has managed operational activities in France and overseas, and has also held various corporate positions (strategy, corporate finance, R&D). More recently, he has carried out various assignments in a consulting firm and a start-up, advising large groups and medium-sized companies in their strategic planning and transformation projects.
Benoît BARRIÈRE, Chief Executive Officer: "I am honoured by the confidence placed in me by all the shareholders by entrusting me with the operational management of Energy Pool. As a true pioneer, Energy Pool has opened up a whole new sector in the valorisation of demand flexibility. We have now passed the innovation stage, and flexibility constitutes a robust and mature solution to facilitate the integration of renewable energies and to meet the challenges of decarbonisation. I am very excited to be part of Energy Pool and the team, and I am eager to contribute to the new developments the company is pursuing."
2021 will also see the creation of a new business activity dedicated to the sale of the DERMS software solution developed by Energy Pool. This solution has been designed for energy companies to facilitate the management and valorisation of numerous assets (Demand Response capacities, distributed generation, etc.) on the reserves and energy markets. Energy Pool also intends to expand its activities to increase decarbonisation, in particular at industrial and tertiary sites, such as its innovative collaboration with ALDEL (an aluminium producer in the Netherlands). Energy Pool has helped ALDEL to adapt its industrial process and to unlock new flexibilities. The site is therefore implementing the first stage of its decarbonisation plan, enabling the integration of renewable energies.
As the Chairman of the Supervisory Board, Olivier BAUD is committed to building the long-term strategic vision of the company and will support Energy Pool in its innovation and partnership projects. Olivier BAUD, Chairman of the Supervisory Board: "After more than 10 years at the helm of Energy Pool and having led the company from its beginnings as a start-up to a high-profile, international SME, it is now time for me to assist the growth of the company in a new role. I have full confidence in Benoît to build on this great heritage and lead Energy Pool and its employees to great success."
The Supervisory Board now comprises 5 members:
Mr. Olivier BAUD, Founder of Energy Pool and Chairman of the Supervisory Board
Mr. Thierry TEIRLYNCK, Deputy CEO in charge of Business Development, Energy Pool
Mr. Jérôme de PARSCAU, Senior Vice President Digital Portfolio Manager, Schneider Electric
Mr. Matthieu MEUNIER, Senior Vice President Finance & CFO France, Schneider Electric
Mr. Philippe BARREAU, Group Executive Vice President, IDEMIA.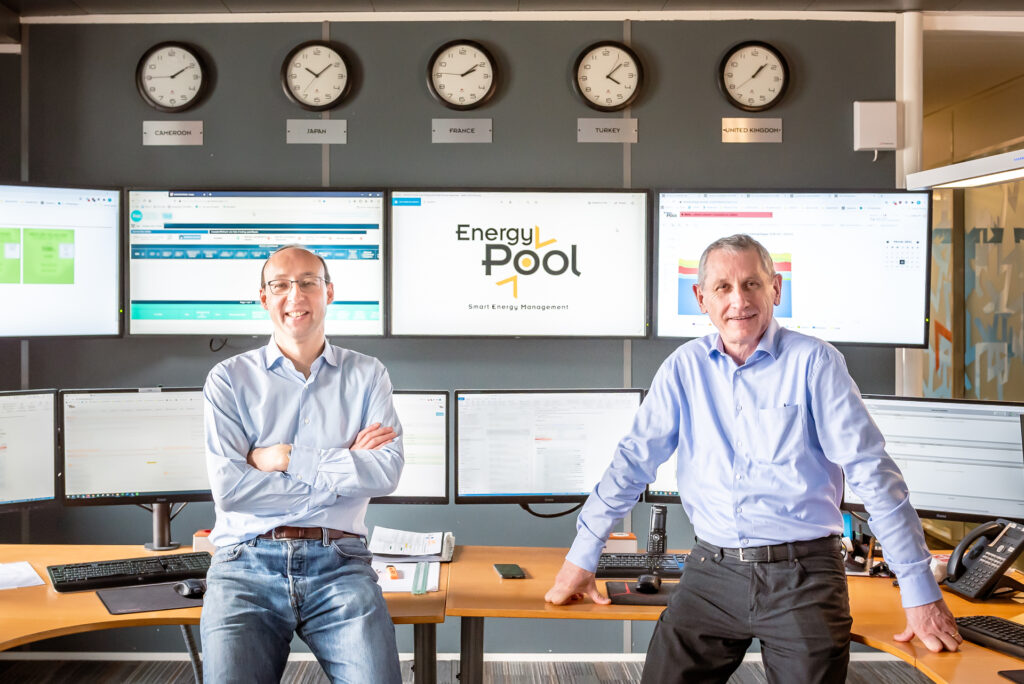 (on the left) Benoît BARRIÈRE, (on the right) Olivier BAUD at Energy Pool headquarters.  ©pict-your-company
Energy Pool and its mission:
At the centre of the smart grid revolution, Energy Pool manages and optimises the energy consumption of industrial sites and, more broadly, of complex systems (distributed generation, renewable energy, storage asset, etc.) for a smarter and more sustainable energy management. These flexibilities enable the easy integration of renewable energies, help reduce CO2 emissions and allow to achieve substantial savings.
Energy Pool has been one of the pioneers in the French flexibility market since 2009, and now has more than 100 employees. In addition to France, we have also been present in the Japanese and Turkish markets since 2015, and in the Netherlands since 2018, and are leading developments in around 10 countries (Germany, Malaysia, Saudi Arabia, Thailand…).
The development of our business sector has accelerated over the past two years, encouraged by the European Union and the definition of ambitious objectives to increase flexibility in electricity consumption and to improve energy efficiency. On an international scale, many emerging countries are considering integrating consumption flexibility to avoid costly over-investments which often use hydrocarbons. Moreover, the targets in the reduction of greenhouse gas emissions require the electrification and decarbonisation of part of the production chains, which is opening up some excellent prospects for the coming decade. Energy Pool intends to play a key role with its customers and states to achieve carbon neutrality by 2050.
To respond to this challenge, Energy Pool is expanding its service offering by including a DERMS (Distributed Energy Resources Management System) software solution that is constantly being updated with new functionalities and which enables the optimised management of energy networks.
Energy Pool's ambition: To be a leader in energy management for complex systems.
Media contact : Anne-Sophie CHAMOY / tel: +33 (0)6.76.78.22.85
anne-sophie.chamoy@energy-pool.eu