Strengthening its position in Southeast Asia,  Energy Pool recently signed a consultancy services contract with Tenaga Nasional Berhad (TNB), the major Malaysian Utility. Energy Pool will have to identify the Demand Response (DR) potential in Malaysia and prepare the deployment of operations. Let's ask 3 questions to our Project Manager Bastien AUSSENAC, to get further details about the project.
1. First, could you please give us some insights on the Malaysian energy mix and market?
Malaysia has the particularity to gather close to 31 million inhabitants on two separated regions. The Peninsular Malaysia and East Malaysia separated from the South China sea. Peninsular Malaysia gathers 85% of the population and has a current installed capacity of 23 GW, distributed as follows: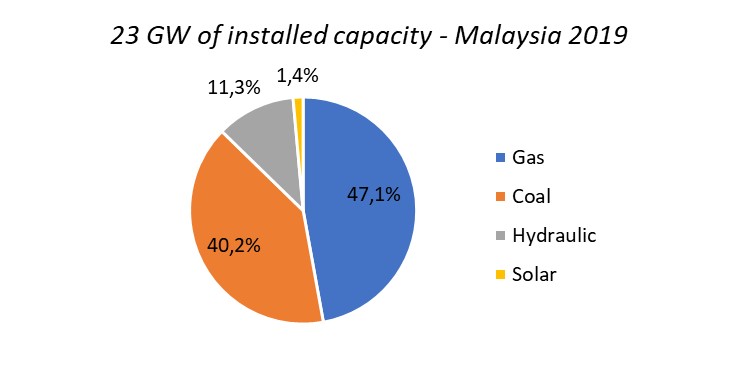 The highest electricity demand recorded, in April 2019, reached 18,5 GW. Forecasts plan 21 GW by 2020 as the country has a significant economic growth (close to 6%/y). Malaysia is also interconnected with Singapore (200MW), and Thailand (300MW). Tenaga Nasional Berhad (TNB) is the sole electricity utility in Peninsular Malaysia, overseeing the generation, transmission and distribution of electricity.
Currently, apart from some conventional power plants, that provide most of the security reserves. There is no other sort of flexibilities participating in TNB's balancing system (Demand Response, storage, others…).
2. What is the context of Energy Pool's mission on Demand Response and what are the main objectives?
TNB is considering several innovative technologies to enable its Grid for the Future initiative. As part of this initiative, Demand Response has been identified as a potential option to deliver benefits for TNB's grid. More specifically, Demand Response would be helpful for the Malaysian grid to address key issues that could arise in the future. They are listed by TNB's Grid System Operator (GSO) as follows:
– High and rapid renewable energy penetration. For example, installed solar capacities should grow from 329 MW in 2019 to more than 1GW by 2021.
– Undersized energy interconnections (Demand Response could serve as frequency response tool during system disturbance).
– Fuel cost volatility (Demand Response reduces the dependency on conventional power plants for spinning reserves).
– Regulatory changes. For instance, Demand Response has a major role to play in the process of liberalization by optimizing generation and transmission costs.
In this context, Energy Pool has been engaged by TNB to identify the Demand Response (DR) potential in Malaysia and prepare the deployment of DR operations. Above all, the study will specifically focus on assessing the conditions under which Demand Response programs can be beneficial to both TNB and its customers. ​
3. What are the different stages of Energy Pool support? and value creation for TNB?
Thanks to its proven experience in supporting utilities in establishing DR initiatives and implementation strategies, Energy Pool is undertaking regulatory analysis and proposing changes to integrate Demand Response in the TNB's environment.
Energy Pool has supported the set-up and implementation of pilot projects for the operation for some of the major utilities in the world. TNB, by choosing Energy Pool for its study, will rely on this experience to design a first tailormade pilot project. Energy Pool brings its unique operational DR expertise in leading markets, not only to assess the potential DR creation value, but also to prepare the deployment of operations.
Demand Response implementation could generate millions of savings for the TNB's system, and contribute to the energy transition towards a more flexible and sustainable mix.
Interested in getting further information on Energy Pool services and solution?  let's get in touch